"Education is a natural process carried out by the child and is not acquired by listening to words but by experiences in the environment"
-Maria Montessori
If a child is interested, he will learn, and his learning will be deep and lasting.
Dr. Sudarsan Nair
Head of Schools
Our classrooms are filled with beautiful materials, enticing choices, experienced and
dedicated teachers and other interested learners. This combination creates a powerful experience, unlike any other learning environment and classroom.
The mission of Alpha Education is to provide a nurturing, high-quality educational
program in which children can realize their potential. This mission is shared by parents, teachers and staff alike. It is our hope to assist children in becoming responsible, resourceful and respectful.
Alpha Education is more than a school. It is a strong community of families with
common goals and values.
As the Head of School, my role of leadership and my goals for the school are many.
The most important, however, is to provide a safe, nurturing learning environment filled with opportunities for each student to meet their unique potential irrespective of the board they study, be challenged and learn according to their own style. Every child has a gift and it is our responsibility to find ways to make those gifts emerge. We want each child to understand their strengths and to acknowledge their weaknesses and to know what it takes to succeed each day and to be assured that they each have their gifts to share with the world.
We have seen the fruits of our work in the amazing results of our students, as they step into the next chapter of their lives as self-assured, successful students and leaders.
We are proud to produce responsible citizens.
Education is the basis of all progress. The entire purpose of education is not to restrict itself to imparting bookish knowledge only but inculcate humanitarian values like compassion, courage, humility, integrity and reliability in a student.
We, just like you, believe in holistic education for your child, encompassing – academics, co-curricular activities, sports education and life-skills learning. Our endeavour is to strike a balance between state-of-the-art infrastructure and an internationally acceptable education.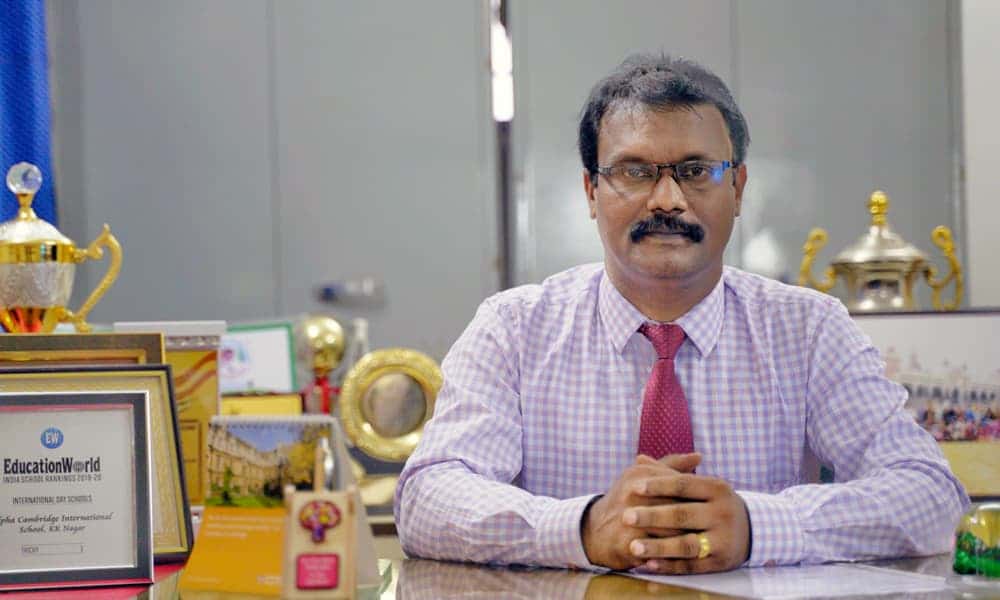 Mr. Wilson Thomas
Principal
At Alpha Cambridge International School, we try to impart an education that is based on conscience and we rear a breed of young minds that are bustling with self- confidence, motivation and ever ready to take up challenges.
Curricular and co-curricular facilities of Alpha campus bear testimony to this effort. In order to promote an internationally acceptable education, our key focus has been on faculty development, providing continuous teacher training to deliver real value education and excellence in academics. Teachers are trained not only to teach well but also to inspire confidence and trust in their students and become role models.
Further, the School inculcates respect for tradition and ensures discipline and good manners in the students. Academic excellence with character and personality development is our ultimate goal. The well-planned academic and co-curricular programme enables the students to attain their full potential to develop sound work habits. The academic work is centred on highly personalized attention and supervision.
Alpha Cambridge International School encourages students to learn about themselves and their constantly changing environment while offering support and guidance as they practise decision-making and social skills. Our school is also proud of its commitment to technology with over 40 computers, plasma in each classroom, tabs for individual students and audiovisual aided teaching and learning. We are constantly striving to stay on the cutting edge of technology!! It is rightly said that "A dream becomes a goal when action is taken towards its achievement" and we are committed to taking constructive and purposeful actions to produce optimistic, independent, compassionate, life-long learners and leaders who will bring glory to the School, State and the Nation.
I take this opportunity to acknowledge the matchless guidance of our Chairman Mr Jesus Lall, Director Mrs Pinky Pujara, Director Academics Mr Harish Luharuka, Head of School Dr Sudharsan Nair, our dedicated staff and faculty and our parents in the path of our progress.
Get In Touch
Alpha Avenue, Sudhana Nagar,
K.K. Nagar East Extn., Airport Post,
Trichy – 620 007
Tamilnadu, India
Admissions Enquiry
Any Other Enquiry
+91 9384055537
[email protected]
For safety & security reasons, a government-issued photo ID is compulsory for entry into the school premises and follow the COVID-19 protocols.